Pornstar Info
Videos with Rain DeGrey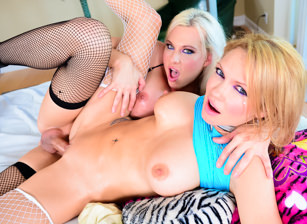 Date added:
2014-11-26
Rating:
Description :
Eva Cassini, a pierced, chesty blonde TS, teases in a leather bra, fishnets and heels; she rubs the prick bulging through her purple panties. Adventurous, heavily inked genetic girl Rain DeGrey caresses Eva's up-curved erection, mouths her nipples and sucks trans-cock. Eva crams that bent boner up Rain's twat and the ladies French kiss. Rain laps Eva's ball sac and tongues her bunghole. After riding cock some more, Rain deep-throats pussy-to-mouth and fingers Eva's anus. As Rain throats prick, Eva cums in the back of her throat; horny Rain strokes Eva's wet, sensitive prick and licks her fingers clean, then dirties them some more in Eva's ass.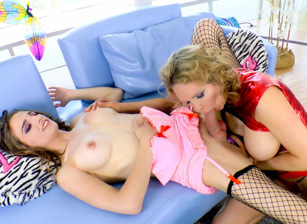 Date added:
2014-08-07
Rating:
Description :
Naughty brunette she-male Kelly Klaymour shows director Joey Silvera her feminine charms (and tits) outdoors, feeling vulnerable. Inside, her thick, towering erection fucks a sleeve masturbator as she rubs her nipples. Enter Rain DeGrey, a buxom, wildly tattooed genetic female in heels and flashy lingerie. Rain tweaks Kelly's nipples, manipulates her face and treats that hard dick to lots of sucking and stroking. And Kelly tugs Rain's head up her smooth-shaved ass for a deep, committed rim job. Rain fucks Kelly with fingers and a purple vibe that Kelly tastes ass-to-mouth. Rain rides Kelly's cock till the she-male cums on Rain's tongue, but the girls keep on titty fucking, kissing, screwing, pussy eating ... and laughing.
Categories :
Hardcore
,
Big Tits
,
Anal
,
Titty Fuck
,
Pantyhose
,
Toys
,
Blowjob
,
Ass to mouth
,
Blonde
,
Brunette
,
Trans
,
Open Mouth Facial
,
Tattoo & Piercing
,
Fishnets
,
Cunilingus
,
Rimming
,
HD Porn
,
Trans Fucks Female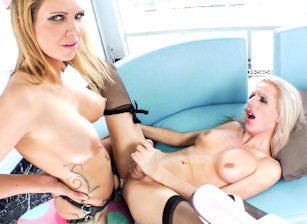 Date added:
2013-03-12
Rating:
Description :
Kinky blonde she-male Juliette Stray and mega-breasted biological girl Rain DeGrey have a hot date that aims to cross all gender lines! Rain kneels between the sultry transsexual's stocking-clad thighs and swallows Juliette's hard cock; Rain straddles Juliette's throbbing she-dick until it spews a load of gooey splooge. Rain dominates the skinny ladyboy, choking her and feeding Juliette her own cum while roughly wanking her sensitive boner and abusing Juliette's mouth and asshole with a big strap-on dildo. Finally, the submissive she-creature sucks Rain's bare toes as Rain masturbates to climax with a vibrating wand.
Categories :
Hardcore
,
Big Tits
,
Deepthroat
,
Foot
,
Strap-On
,
Pantyhose
,
Toys
,
Blowjob
,
Blonde
,
Trans
,
Tattoo & Piercing
,
Fishnets
,
Rimming
,
HD Porn
,
Handjob
,
Caucasian
,
Trans Fucks Female
,
Trans Fucks Trans